Methods and Data Collection
Introduction
Value chain research
should
provide the evidence to
identify
chain
interventions
and
development opportunities
,
and/
or
to
e
valuat
e
policies
or
develop
policy
recommendations
.
G
ood value chain studies
need to
produce more than descriptive
summaries
.
The research
m
ethods should support critical, substantive analysis and
rigorous
evidence
gathering about
the current situation
,
what
changes
could
improve chain competitiveness
and
options to
produce
better incomes and livelihoods for participants.


​
Selecting suitable
research
methods
is a
very
important
step in the value chain research cycle.
This
chapter
provides
practical
guidelines
about
the
research and data collection
methods
to use
when applying the
value chain
tools
outlined
in following chapters.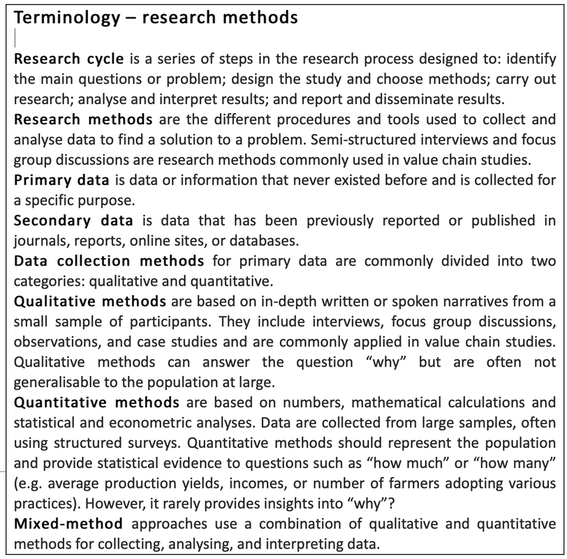 Value chain
studies
often appl
y
a mixed
-
methods approach
.
M
ixed-method
s
can combine deeper human insights from qualitative
methods
(e.g. focus group discussions, semi-structured key informant interviews and direct observation) with statistical characterisation from quantitative methods (e.g. structured survey questionnaires from larger samples of farmer households or consumers).
This provides a better understanding of research problems compared to either approach alone.
The final choice of methods
is
often determined by the available time and resources, geographic scope, the complexity of the chain and the primary purpose and focus of the research.
On
some occasions
,
a rapid appraisal will be required
,
and
qualitative data will be collected from a relatively small sample of informants. In other cases, larger
,
stratified samples
of one or more groups of actors
,
such as farmers or consumers,
might be
collected using
structured surveys
, in combination with key informant interviews and focus group discussions.

​
Objectives
The main objectives of this section are to:
Understand

different

research and

data collection methods

used in value chain

studies

,

and

how to

correctly select and apply

them
Recognise

how to

apply

a gender lens

in

the design and implementation of

value chain resear

ch

Learn about

sampling and data collection

,

and

how

to

validate and interpret data

Provide tips about t

eam size and composition
Applying a
G
ender
L
ens
To better understand gender
roles
, barriers
,
and opportunities in agricultur
al
value chains
,
a gender perspective
or lens
should be integrated into all aspects of the research
cycle
, methods
,
and data collection.

​
A gender lens
provides
a gender-nuanced or gender-disaggregated perspective of chain structures and conduct. This
requires
understanding
of
the differential position and roles of women and men in the value chain, as well as their specific
resources,
constraints, needs, and opportunities
. This
may
lead to gender-sensitive recommendations and
,
in some cases
,
recommendations that specifically aim to address gender inequalities.
The gender research cycle model
below
can
help
to
consider gender in all stages of
value chain research
.
The following sections in this chapter include ideas for how a gender lens can be included in research methods and data collection considerations.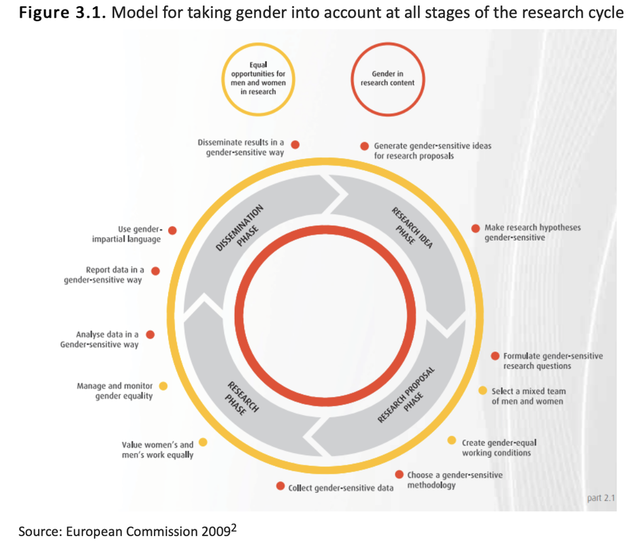 Research questions and hypotheses, research methods, data collection tools, and study samples need to reflect gender and social inclusion as key areas for enquiry. The guiding questions in Box
1
below can help researchers to understand gender equality issues in key domains of empowerment
and
provide guidelines on
what information to collect.
​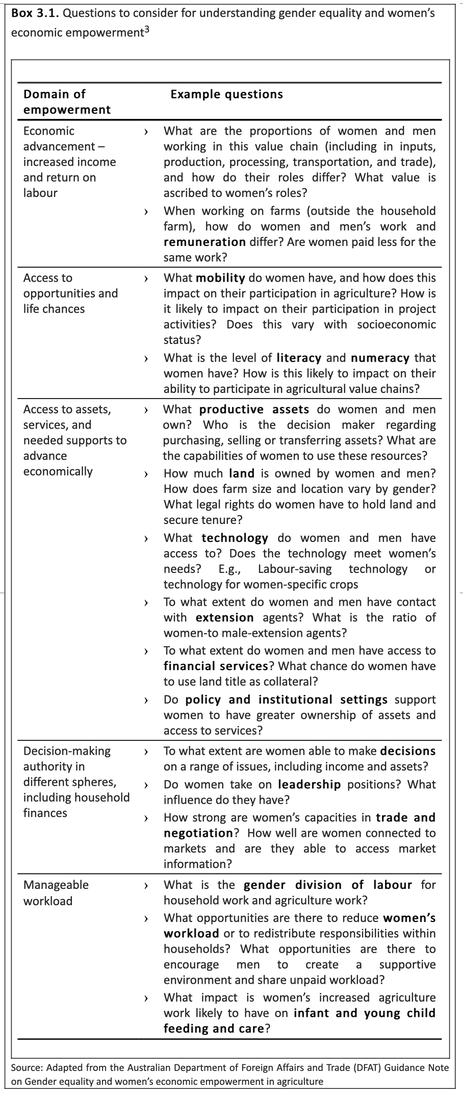 Data
C
ollection
M
ethods
C
ommon
data collection
methods
used
in value chain
research
are described
in
this
section.
Semi-structure
d
key
informant
interviews
,
f
ocus
group
discussions
and
direct
observation
can be
described
as
qualitative
methods
for
primary
data
collection
.
Whilst
structured
survey
s
are
considered
a
quantitative
method
.
Review of secondary data and information
The review, analysis and synthesis of data and information from statistics, publications and reports provides invaluable context and supporting evidence about different target groups, sectors or products when prioritising and selecting value chains (prioritisation of value chains is discussed in detail in Tool 1 in Section 2 of this
toolbook
). It will also shape
subsequent research questions and
data collection
activities.
U
seful information about the main
production areas, key distribution centres, final-destination markets, and important market players and segments
can
be gathered during this process. Anthropological or socio-economic studies can also provide useful information and insights about the livelihood and socio-cultural context and challenges of the local target populations.
Examples of secondary data and information sources are provided in Box 3.2.
Insights
gained
from re
view
ing existing
reports and publications
should provide
an initial
perspective
about
certain issues and some working hypotheses that
can be followed up in
subsequent discussions with key informants. Areas where important
data and information is missing or contradictory, or where different analysts disagree,
will
merit s
pecial attention during
key informant interviews.
D
ata and information published
in online articles and news
often
requir
e
s
validation from other secondary or primary sources.
Secondary data will need to be revisited during the analysis of
primary data and the writing of the final report. This will enable analysts to develop a more comprehensive and robust picture of the value chain and the overall external environment.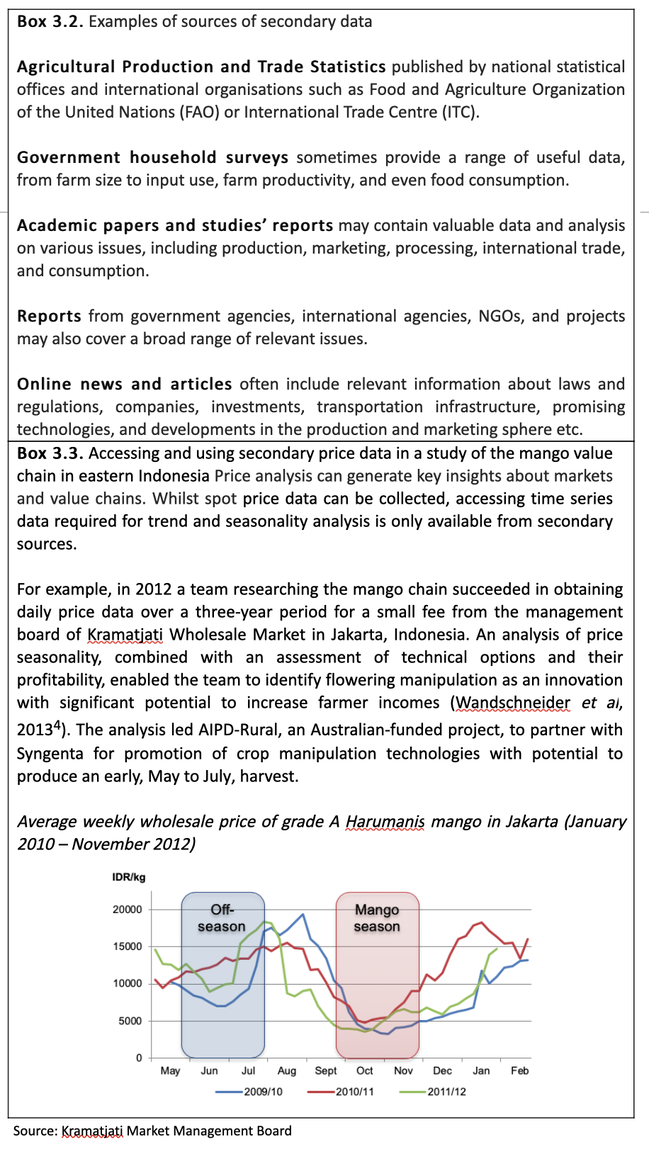 Semi-structured key informant interviews
Semi-structured
,
key informant interviews are
usually
the main method for
primary data
collection.
Two broad categories of key informants are
normally
targeted:
Knowledgeable observers

.

These people

do not participate in the production and marketing of the commodity in question but may offer important information and insights. Academics, researchers, retired food industry managers, policy makers, other government officials, extension officers

,

and staff from donor agencies, NGOs

,

or projects all fall under this category.

​

Direct or

i

ndirect

m

arket participants

. These are either

involved in the production, marketing

,

and processing of the agricultural commodity under analysis (e.g. farmers, traders, and processing firms) or engaged in the delivery of commercial services to value chain participants (e.g. input suppliers and transporters).



Semi-structured interviews are not based on a rigid sequence of short and precise quantitative questions as is the case with structured interviews. Instead, they consist of a series of exchanges and discussions around pre-determined questions and topics following a flexible interviewing format.
This type of interviewing is particularly suited to in-depth probing around a wide variety of issues, including practices, choices, beliefs, expectations, norms, patterns, trends, linkages, relationships, flows, opportunities, constraints, and underlying causes of behaviours. It provides an avenue for asking a set of complementary questions on different issues, including what, when, where, who, how many, how much, how, and why.
Checklists are often typically used to guide these interviews. Lists of topics, issues, or questions serve as prompts or reminders. This helps researchers follow a certain sequential logic in their questioning. There is plenty of scope, however, for deviation from a certain order of enquiry.
​Checklists should generally be specific to each group of actors. For example, input dealers can provide useful information about the technologies available to and used by farmers in their area, but will generally know very little about agricultural marketing systems. An example of a key informant survey checklists for wholesalers in the mango value chain in eastern Indonesia is shown below.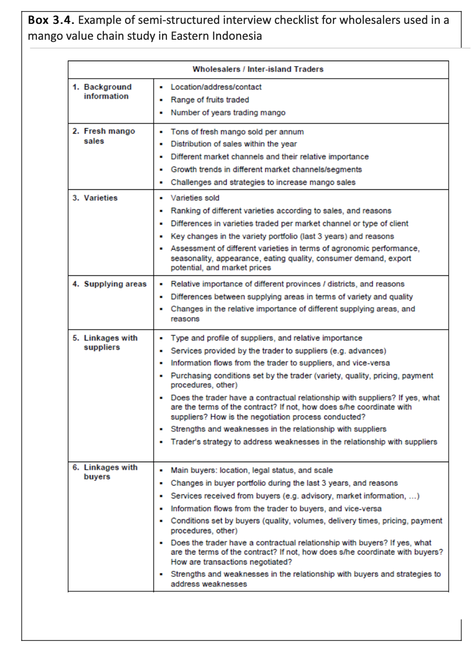 I
t is very important that
checklists and
interviews with
market participants are treated as
opportunities to gather
valuable information about other chain participants and enterprises, and the value chain more generally.
This enables
the research team to develop a comprehensive and nuanced understanding of the value chain in a context where sample
numbers
are small
,
and
therefore
may be
unrepresentative.
Checklists can be
revisited
during
fieldwork
and
modified as appropriate, deleting questions that are not appropriate and adding questions on issues that
merit
further
examination.
While there are no rigid rules regarding the sequencing of interviews, targeting
informants with a bro
ader
, more systemic perspective
first
is
often
a good
strategy
.
Th
ese informants
may include particularly knowledgeable and insightful academic
s
,
procurement managers of
large
supermarket
chain
s
, wholesalers in
major distribution and consumption
centres
, and
large processors and exporters.
In research contexts where there is no
specific
geographical focus,
a common option is to visit
key
terminal markets before other
upstream market segments.
W
here there is
a
special
interest in certain
geographic
areas
,
researchers
may want to start their in
vestigation in selected locations within those areas
,
then follow the chain downstream.
In such cases
, care is needed to
ensure that
the sample includes
competing production areas
, in order t
o gain a system
-wide
perspective.
Establishing good rapport
, clear communication
,
and t
rust
with key informants
is
essential
for
successful semi-structured interviews
.
Informed consent, either verbally or on a written form
,
should be obtained.
A friendly and relaxed attitude is recommended. At the same time, the informant should be made to feel s/he is the expert. Questions should be simple and direct. Paraphrasing statements from the key informant is a good way to ensure that certain messages have been clearly understood. Sensitive questions should be left for last, and informants should only be asked for their telephone and e-mail contact for possible follow-up at the end of the interview.
The interviewer's gender
,
perceive
d
seniority
,
or technical competency
may
influence the interviewee's attitude and the quality of information shared by the interviewee.
These factors should be considered when
putting interview teams together.
Focus grou
p
discussions
A focus group discussion can be defined as an in-depth group interview
with
a
relatively homogenous groups
of people
gathered to provide information around topics specified by a facilitator.

Focus
group discussion methods are
often
employed to gather information from farmers
or from
consumers
to
identify
key issues
. They are also
helpful for developing questions for in
-
depth interviews
and
structured
survey questionnaires,
or
for
pre-test
ing
market
research.
However, in a value chain research context,
f
ocus group discussion
s
can be used
much
more widely. For example
,
a focus group discussion with
extension staff from a given area, or from different locations
,
may
be
a better option than individual semi-structured interviews with these chain informants. Likewise, while
agro
-input dealers can be interviewed separately, they can also be convened to talk about input chains and technology adoption in a group setting
.
Selecting informants according to gender
and
other socio-economic characteristics may prove appropriate in contexts where hierarchal and power relations are likely to undermine participation. For example, if women are uncomfortable talking about
certain questions in the presence of men, reluctant to contradict them in public, or inclined to let them take the lead in public discussions, it might be best to organi
s
e gender-segregated meetings.
Also, women and men have different roles, opportunities
,
and social networks across value
chain
s
. In the mixed focus group discussions,
those gender differences tend to be
overlooked.


More generally, it may make sense to have separate focus group discussions with economically and socially disadvantaged groups, including the poor and ethnic or religious minorities
,
to identify their specific challenges and constraints in
the
value
chain
. Power dynamics may equally undermine data collection when managers and members of a cooperative, local government officers and farmers, or project staff and project beneficiaries
,
are participating in the same focus group discussion. In some contexts, age is another dimension that may need to be considered
, especially i
n the context where
seniority
is associated with
power
,
and/
or the project has a specific t
arget
for
engaging with
specific age groups
,
such as
young
female
or young m
ale
actors
.


Whilst it is generally ideal to have separate focus groups for men and women,
in some cases this may not be possible.
In
this case it is
desirable to take a flexible approach that includes both men and women in the overall discussion, but
split into separate gender group
s
for some topics
,
in the recognition that men and women have different knowledge and understanding around different topics.
Box 3.
5
gives an example of information
-
gathering activities within a focus group discussion around cassava farming. Some
of these
activities were undertaken jointly with both men and women farmers and others were undertaken separately.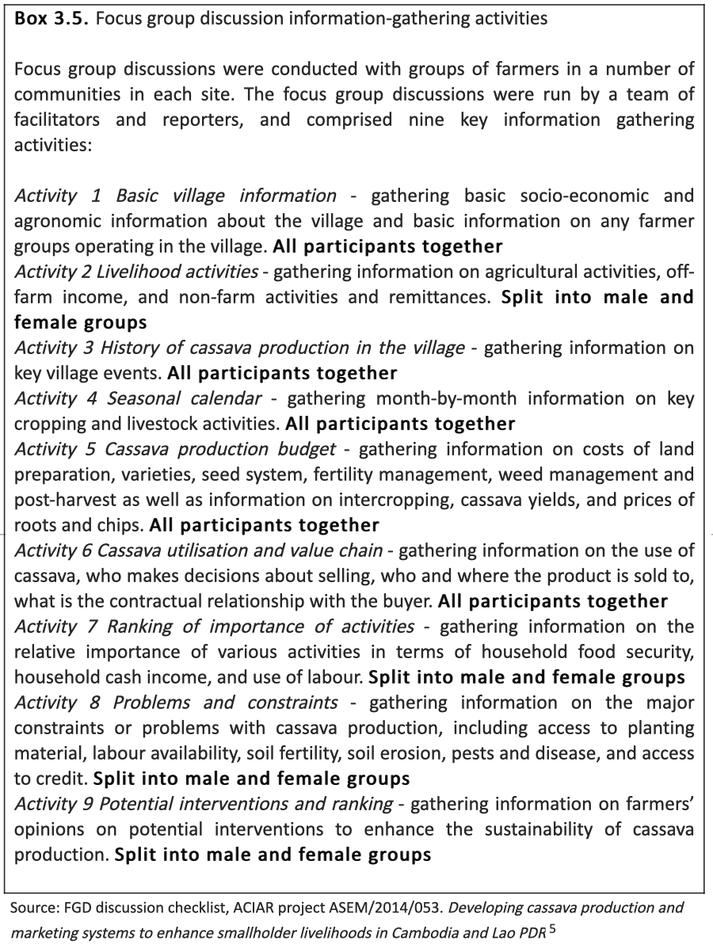 As in the case of individual semi-structured interviews, a researcher or practitioner guides an informal discussion with the aid of a carefully prepared checklist. As there are a larger number of several participants in a focus group discussion compared to a key informant interview, "interviewers" need to additionally take on a strong facilitation and moderation role.
R
esearchers and practitioners may encounter and need to manage
the following challenges
when conducting focus group discussions:
Group dominance

. There is often a tendency for certain individuals to dominate a discussion because of their personality, power, status, or other reasons.




Groupthink

. Participants may refrain from expressing alternative views for fear of sanctions or disrupting relations within the community. Therefore, the consensual views voiced may not accurately reflect the knowledge, experiences

,

and perspectives within the group.




Social desirability bias

. People often avoid revealing behaviours, practices or views that are socially unacceptable or frowned upon. For example

,

if a group of men and women farmers are asked about gender divisions of labour without careful facilitation

,

participants may be inclined to answer that both men and women share tasks equally, and that men are very supportive to women

, w

hich may or may not be the case.



A good moderator will be mindful of these risks, pay attention to group dynamics, and find ways to open
up the discussion and encourage honest exchanges.
S/he will also be able to draw on
b
etter-informed, more knowledgeable individuals
who
may have
more to offer in a discussion about value chain structures, practices, patterns, and relationships.
It is important to make the purpose of the research clear to all participants from the onset. However, expectations should be managed regarding possible benefits that may accrue to participants, as this may condition their replies. An informal, relaxed environment will make participants feel comfortable and contribute to an open and lively exchange. Acknowledging and valuing different contributions, even if outside the initial discussion script, inviting quieter individuals to intervene, or asking the group to comment on the information and views from a dominant member
,
will also encourage participation and reduce response bias.
The geographical scope of the research and the heterogeneity of farming and marketing systems should be considered when defining the number of focus group discussions. Participants should then be selected
based
on their ability and capacity to provide relevant information.
Around
eight
participants
are
usually adequate, allowing for
the provision of
a variety of views and information.
L
arger
groups can
make it
difficult
for all participants to adequately contribute to the
discussion
.
The duration of a focus group will vary, depending on the issues under investigation and their complexity, but should not exceed two or two
-
an
d-
a
-
half hours. After a while
,
the quality of the data and information will start declining due to facilitator and participant
fatigue
.
I
t is important to arrange
a
time and venue
for interviews
that are convenient
to both
women
and men
participants
,
as they often have different time commitments throughout the day
.
Direct observation
Direct observation is a method for collecting and evaluating data based on
what is observed
. It provides opportunities for documenting activities, behaviours, and physical assets through visual observation, without having to depend on people's willingness or ability to respond to questions.
Direct observation techniques
are often
used when a team is in the field interviewing market participants, as much can be learned from simple observation. During visits to input outlets, for example, researchers can visually inspect the range and quality of agricultural inputs available.
Village t
ransect walks
ca
n be used to better understand the farming system from the production side.
For example
,
farms
visits
provide opportunities to witness crop and varietal choices, farm management and post-harvest practices, and gender division of tasks.
An appointment at a processor's premises allows researchers to observe the level of activity, technology choices, or the capacity and use of storage facilities, for instance. Markets also provide a wide range of visual information, from trader numbers and types to produce quality, traded volumes, and the type of transportation vehicles
used.
Similarly, "walking-the-chain" appraisals can provide an overview of the general function and form of a specific value chain.
In value chain studies, direct observation should always be viewed as a complement to other primary data collection methods, never as a substitute. The understanding gained from opportunistic observation can be used to inform and enrich individual and group interviews. It can also be triangulated with what informants are saying
;
for example
,
with regards to the varieties they grow, the scale of their operation, or the quality of the produce handled, thereby serving as a very useful data validation method.
Structured surveys
Structured surveys are the
main
quantitative method
used in value chain research.
They
are used
to
collect data and information from a larger sample of
chain
actor
s
or groups
.
A structured questionnaire or survey generally asks respondents a pre-determined, sequentially
-
ordered set of questions.
Direct, c
losed questions are most
common
;
however
,
open questions can also be
used.
The purpose, resources, and circumstances of the study may determine the decision to use a structured survey.
For example, some analysts may
need
to learn more about
quantif
ying-
specific
characteristics or
differences
that exist
within or between sub-groups
of
actors, processes, market channels
,
or geographic areas.
T
his is often the case when there are very large numbers and
considerable
variability amongst a certain group of actors
such as
farmers, traders or consumers.
Several
questions
should
be
considered
when
plan
ning
and implement
ing
a structured survey
. These include
:
W

hy is a structured survey necessary

?



W

hat

key

quantitative

data and

information

needs to be collected

?




I

s there a

need

to stratify the sample

for different sub-groups

?




H

ow large should the sample be?




H

ow will the

sample

respondent

s

be identified and selected

?




H

ow

and where

will

women and men be represented?



W

ho will conduct the

survey

s

?

H

ow will they be trained?




W

hat activities are nee

ded

to inform and pre-test the survey?




H

ow will the

data

be collected

, i.e.

using hard-copy pen and paper or mobile digital platforms

?




H

ow will the data be managed and analysed?

and




W

hat time and resources are available to

undertake the survey

?



Structured surveys can capture
specific
information about household or enterprise asset endowment
s
, income, expenditure and labour allocation, demographics, gender roles
,
and
agronomic practices, activities and production data
. Information about
women and men's
access to finance and information,
knowledge and skills
,
and
attitudes
,
experiences,
perceptions
,
and aspirations
can also be captured.
The number of respondents surveyed, or sample size
,
is very important for ensuring
that the
data and results are statistically valid. Conducting surveys with
a
small number of respondents, (a small sample size) is usually inappropriate and can result in false conclusions. For example, calculating percentages or averages from a survey of
five to ten
participants may be very misleading.
It is
important
to ensure the sample of targeted actors for data collection is sufficiently large enough to be statistically relevant.
As a rule of thumb, a sample of around thirty participants
,
or data points
,
is generally considered sufficient to provide a statistically valid analysis. However, this will depend on factors
,
such the
population
size
or
level of heterogeneity.
To reduce sampling bias, interview subjects should also be randomly or semi-randomly selected.
Sampling might
also
be stratified
by
pre-determined characteristics
of
the
actor group
,
such as
household
income, ethnic
ity,
proximity to markets,
production
scale
,
or market channel
.
It
is
also important that men and women
actors
are evenly represented in the sampling design
, and
that
data can be disaggregated by gender
.
This
ensure
s that
potentially important
sub-groups are
sufficiently
represented in the data collection
,
and
to enable basic descriptive analyses.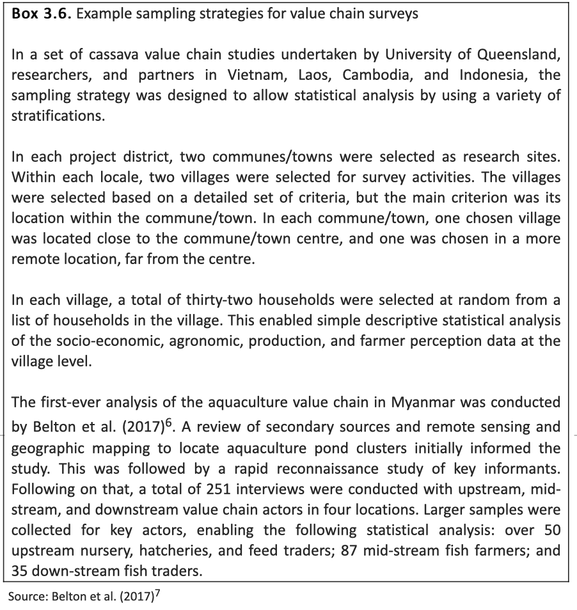 T
he design
and content
of structured surveys
should be
informed by information from secondary reviews, value chain mapping, key informant interviews
,
and focus group discussions with different actor groups.


​
Structured survey d
ata are normally analysed using
simple
quantitative descriptive statistic
s
.
Results
often
provide quantitative evidence
describe in detail
about
the what and
,
where,
how many, and how much,
but offer less insight about the why or how
.
Therefore,
results from structured surveys should
be
complemented
with deeper insights from qualitative methods
.
such as key informant interview
s
or focus group discussions.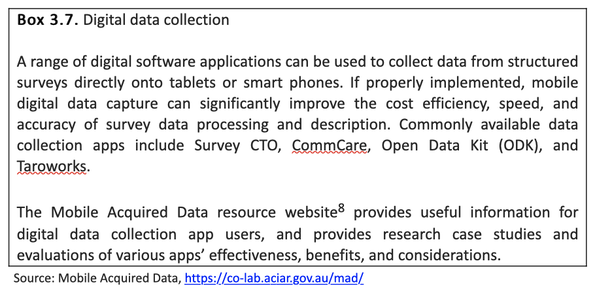 Data
V
alidation and
I
nterpretation
Triangulation
is
the cross-verification of data and information from multiple sources
to
identif
y
consistencies and regularities, as well as discrepancies and variations.
Triangulation
can
ensure that value chain data
is valid and interpreted correctly, resulting in findings that are both accurate and credible.
Triangulation performs two essential functions:
Data validation

. Systematic cross-checking of sources and responses is necessary

to assess

data validity. It enable

s

researchers to discern between accurate and inaccurate data

,

and between reliable and unreliable information.




Data interpretation

.

T

riangulation

helps

researchers to make full sense of the data and information gathered. Triangulation reveals different views and perspectives, as well as important regularities and disparities in structures, behaviours, preferences, patterns and processes, thereby widening and deepening our understanding of reality.



Two types of triangulation
are considered in the context of a value chain study
:
Methodological

triangulation

employs

a combination of methods to address the same issue or question.

This

allows researchers to discard certain data, validate or refute particular interpretations, gather complementary evidence, explore different aspects of the same issue, and identify areas where further research is needed because the data is contradictory or inconsistent.




Data triangulation

compar

es

different

answers to the same question

,

and views and perspectives on the same issue. Such analysis will expose data inconsistencies, as well as similarities and differences between individuals, households, enterprises

,

and locations.



An example of methodological triangulation would be to ask processors about their business in the context of a semi-structured interview, and then compare their answers with the insights gained from direct observation. Another example would be to use farmer questionnaire data and farmer group discussion data to understand technology and market channel choices.
As an example of data triangulation, researchers looking at the gender division of labo
u
r along a value chain could discuss the issue separately with
female and
male chain participants in focus group discussion settings, during key informant interviews, or both. Triangulation of the data by location and region, or by ethnicity and income, could expose important spatial and socio-economic patterns.
Th
e
process of asking the same set of questions to market participants at adjacent segments of the value chain is a very powerful triangulation technique. It is known as
mirror image interviewing
. In a
certain
area
,
farmers may claim that local collectors do not pay differentiated prices according to quality, but what do those traders say? Are the answers of suppliers and buyers consistent? And if not, how can researchers
find out what the true situation is? Further interviews with farmers and collectors should clarify the issue.
Clearly, the need for systematic triangulation must inform the whole research process, from the development of study samples and the design of research methods and tools, to the collection, analysis
,
and reporting of data. For example:
A variety of locations and markets should be selected for a comparative perspective.




The range of study informants should reflect the diversity of chain participants.




Checklists must allow for mirror image interviewing techniques to be employed.




During fieldwork

,

researchers will need to make sure that

the same

certain key

questions are methodically asked to different informants until they start getting a consistent set of replies.



A comparative analysis of the data will continue after the fieldwork, including during the reporting of findings and conclusions.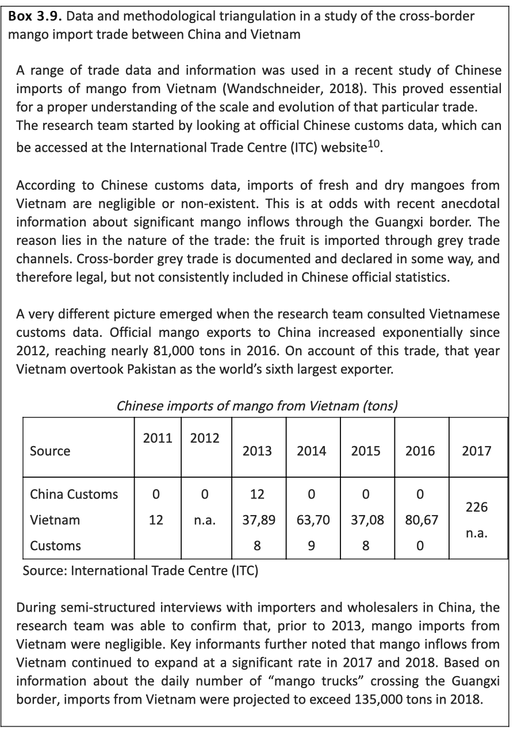 Sampling
and
D
ata
C
ollection
During the design
phase
, research teams will need to define the study or research locations, identify the different key informant categories, and determine the approximate number of informants per category and location. This process is called sampling.
This section
provides
some
guidelines
for
planning
and
implementing
sampling
and
data
collection
for
semi-structured
key
informant
surveys
.
Some
of
these
principles
also
apply
for
structured
surveys
.
Sampling choices need to reflect the purpose and focus of the study, the range of information required, and the time and resources available.
When
developing a sampling framework,
researchers need to answer the following three questions:
Sample units

: Who should be interviewed? Value chain participants are usually the main

target

for data collection, but key commercial service providers and knowledgeable observers should also be considered for

an

interview. Care is needed to ensure that

larger market players are included in the sam

ple

, as they tend to

be both influential

in the chain

and

have a good overall understanding of the chain and

the

external environment.




Sample size

: How many people in each key informant category should be interviewed? The greater the diversity in the profile of chain participants, for example

,

in terms of gender or ethnicity, socio-economic conditions,

enterprise

size

and

scale

, organi

s

ation legal status or business strategy, the greater

will be

the need to increase sample size

and

perhaps

stratify

or balance

sampling

amongst subgroups

.

Larger minimum samples will be required

when

implementing structured surveys

to obtain enough data points

for

meaningful

descriptive and probability

-

based

statistics

.




Sampling procedure

:

For qualitative

approach

chain sampling

,

a

variety of non-probability, non-random procedures

are

typically used to arrive at a sample that is broad enough to provide a good understanding of a value chain. Convenience, snowball, and intercept sampling are commonly used.

Random or semi-random sampling

(for example

,

where a

sample is selected from a

list of local traders, input suppliers or even

village

farmers is provided)

should

be applied for large structured surveys

where basic statistical analysis is required.



Convenience sampling
consists of selecting key informants
based
on practical considerations
,
such as ease of access, willingness to be interviewed, or availability. This approach is very convenient, particularly during the initial fieldwork stages, but on its own will generate an incomplete and skewed sample. It should therefore be used in combination with other sampling techniques.
Snowball (or chain-referral) sam
pling
entails asking study res
pondent
s to
identify
or locate other relevant key informants, such as suppliers, buyers
,
or
a
specific
type of market participant. Snowball sampling is widely used because it enables access to key informants that may otherwise be difficult to
identify
.
Intercept techniques
are often used for selecting small and informal enterprises, such as small equipment workshops, input retailers, traditional traders, small-scale food processors, and transporters. Approaching these informants at
their workplace
is a practical way of
sampling participants in small and informal market systems
. In cases where willing informants are very busy
,
the interview can be scheduled for another time, at the same or a more suitable location.
A flexible approach to sample structure and size is highly desirable
in qualitative, s
e
mi-struct
u
red surveys
. The initial choice of locations, markets and informants should be treated as indicative, not definite. It should be possible to introduce changes or adjustments during the fieldwork, according to need and opportunity.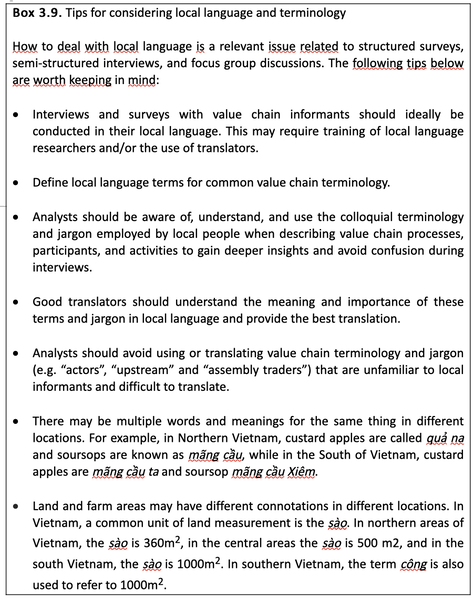 Team
S
ize and
Co
mposition
Multi-disciplinary value chain research teams with a range of complementary skills and expertise can be very advantageous. Useful knowledge and skills within a team include:
a strong grasp of economics and strategic marketing;

p

revious

experience in

value chain research and agricultural commodity analysis;

technical expertise

in sector

agronomy, post-harvest and processing;

expertise

that can integrate

a

gender and wom

e

n's economic empowerment

lens

within

value chain research

;

sociologists and anthropologists

who

can provide insights

into

human geography and socio-cultural influences and use of qualitative methods for disaggregated, socio-economic analysis focused on poverty, livelihood

,

and/or gender;
strong interviewing experience and skills; and

knowledge about local value chains, market channels and actors.
Mainstreaming gender and social inclusion into value chain research requires speciali
s
ed knowledge and skills
.
Active involvement of social scientists with a strong background
i
n livelihood and gender research and analysis is important to ensure that these perspectives inform the whole research process.
The involvement of researchers with
local
knowledge of culture, values and norms, strong interviewing and facilitation skills, and experience engaging with disenfranchised groups is important. In some contexts, sharing certain characteristics with respondents, say gender or ethnicity, may make all the difference in terms of the range and quality of the data collected
T
o ensure a coherent, chain-wide perspective, one person should lead the different stages in the process, from study design to data collection, analysis
,
and reporting.
The active involvement of the leader
during all fieldwork stages is particularly important
in
view of the need to
adjust survey samples and tools
,
and allow for discussions with respondents to be informed by previous interviews along the production and marketing continuum.


​
Reading
List
Alexandra
M,
and Jones
, L.
,
Market Research for Value Chain Initiatives
, MEDA
,
December 2007
.
http://www.fao.org/3/a-at402e.pdf
da Silva
, C.A.
and de Souza
Filho
,
H
.
M.
,
Guidelines for rapid appraisals of
agrifood
chain performance in developing countries
, Food and Agriculture Organization of the United Nations, Rome
,
2007
.
http://www.fao.org/3/a1475e/a1475e00.
pdf
Wandschneider
, T., Baker, I. and
Natawidjaja
R.,
Eastern Indonesia agribusiness development opportunities – analysis of mango value chains
, Report prepared by Collins Higgins Consulting Group Pty Ltd for the Australian Centre for International Agricultural Research, Project AGB/2012/006
,
2013
.
ODI
,
Research tools: focus group discussion,
2009.
https://www.odi.org/publications/5695-research-tools-focus-group-discussion
Norman
, D.
K.
The research act: A theoretical introduction to sociological methods
. New Jersey: Transaction Publishers
,
1973.